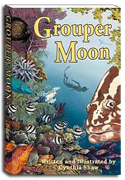 Grouper Moon - a great literature focus for multidisciplinary teaching and learning
An exciting option for the classroom or home school as a science-language arts-social studies connection is Grouper Moon, a kids' novel by Cynthia Shaw that artfully blends science and fiction. This delightful story of an island boy and an affable Nassau grouper entertains readers while teaching them about very real coral reef and fishery conservation issues.
"It has been a wonderful class experience," writes Louise Marquering, who used Grouper Moon in her 7th grade classroom at Hamilton Creek School in Lebanon, Oregon. "It really held the students' interest and is up there with My Side of the Mountain and Where the Red Fern Grows for favorite stories. I appreciated the tie-in with our survey of the animal phyla as we studied structure and function of all animals. It also allowed me to integrate my diving experiences and pictures with both literature and science."