Can You Have Your Fish and Eat It, Too?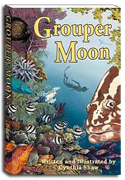 Grouper Moon - a great literature focus for multidisciplinary teaching and learning
An exciting option for the classroom or home school as a science-language arts-social studies connection is Grouper Moon, a kids' novel by Cynthia Shaw that artfully blends science and fiction. This delightful story of an island boy and an affable Nassau grouper entertains readers while teaching them about very real coral reef and fishery conservation issues.
"It has been a wonderful class experience," writes Louise Marquering, who used Grouper Moon in her 7th grade classroom at Hamilton Creek School in Lebanon, Oregon. "It really held the students' interest and is up there with My Side of the Mountain and Where the Red Fern Grows for favorite stories. I appreciated the tie-in with our survey of the animal phyla as we studied structure and function of all animals. It also allowed me to integrate my diving experiences and pictures with both literature and science."
Grouper Moon centers on 12-year old Renny and his unlikely friendship with Cooper, a Nassau grouper. The story has everything kids look for in a good book—action, adventure, even romance — while delivering a scientifically accurate picture of the many different life forms thriving on a Caribbean reef, and the perils they all face in a changing world.
Renny and Cooper form their friendship as the Nassau grouper population gathers for an annual spawning aggregation, called a "grouper moon" in the Caribbean. The island fishermen mobilize in their quest for the valuable grouper, and Renny learns about the ecology of the coral reef around his island and the biological cycle of the groupers that make them so vulnerable to overfishing. As he struggles to understand the conflict between his own family's needs, the traditional lifestyle enjoyed by the islanders, and the island's limited resources, he realizes that without careful management his favorite reef—and the grouper population—will be destroyed.
The inspiration for Grouper Moon comes from real life. "I wanted to write an engaging chapter book with accurate and applicable science that would draw students into timely conservation issues," says Shaw, a scientific illustrator and writer. A veteran diver, she combines "the perceptive eye of a scientist" with "a magical touch in gracefully anthropomorphizing her characters so the story has both appeal and perspective for the young reader," according to Emmy award-winning underwater film producer Stan Waterman.
Shaw's novel draws on her childhood as the daughter of a U.S. Navy officer in Florida and the Caribbean island of Trinidad. She earned her zoology degree at the University of Hawaii-Manoa, and has been scuba diving for over 30 years. Her affection for Nassau grouper as "the puppy dogs of the reef" and the fact that they are now endangered provide the inspiration for her conservation-based message.
Shaw originally wrote the book as part of a curriculum on coral reef ecology, but its appeal extends well beyond the classroom. Educators and biologists alike praise her sensitive portrayal of island and reef life. "It is a too-rare treat for me to encounter an author who, with complete success, can provide accurate science within an appealing story," writes Waterman in his foreword to Grouper Moon.
The book presents some very important economic and social issues surrounding resource management and conservation," says Dr. William Coles, a biologist with the Virginia Institute of Marine Science. "The fact that both the problem and the solution are identified by Renny and the islanders makes the story very appealing."
GROUPER MOON
Written and Illustrated by Cynthia Shaw. Foreword by Stan Waterman. (RL 5.3)
ISBN 0-9670595-2-6 Library of Congress Catalog Number: 99-90928
Trade soft cover original with matte lamination.
151 pages, 5.5 X 8.5 inches, 9.3 oz.
Individual copies also available at Amazon.com
Pricing: $9.95 for 1-5 copies, $7.95 each for 6-14 copies, $5.95 each for 15-29 copies, $4.95 each for 30 or more. (To order, select the quantity range below; add to cart, and enter quantity desired.)