Your copy signed by the author!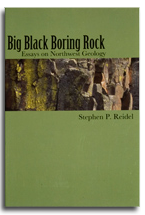 From the Publisher:
Written in the same vein as well-known author John McPhee's books, Big Black Boring Rock is a collection of highly readable and witty essays that focus on the geology of the Pacific Northwest. Author Steve Reidel is a geologist with the Pacific Northwest National Laboratory in Richland, Washington, and an expert on Columbia River Basalt, the primary rock of the Columbia Basin – the semi-arid region of Washington State where most of the essays are set. The book collects a series of captivating essays Reidel has been writing for more than a decade for the Tri-City Herald, the daily newspaper of the Tri-Cities (Richland, Pasco, and Kennewick), Washington. Written in plain language, Reidel makes geology, an often difficult field to understand, accessible for all readers.
The book is divided into four parts. Part I: The Making and Shaping of the Columbia Basin covers the creation of the Basin from the massive flows of lava covering 100,000 square miles—the largest on Earth—to the walls of water 600 feet deep created by Ice-Age floods that sculpted the region. Landmarks, Part II, describes the creation and stories behind Tri-Cities landmarks such as Rattlesnake Mountain and the Two Sisters. The essays included in Part III, Geohazards, focus on Cascade Mountain volcanoes, such as Mount St. Helens; area earthquakes; and regional tsunamis. And, Part IV takes readers from the Tri-Cities to explore geologic wonders scattered around the region, such as the Gorge at George, Washington; Gingko Petrified Forest; and Beacon Rock State Park.
Whether you are local to this area or an armchair traveler, Big Black Boring Rock offers a fascinating foray into the forces that shaped the northwest corner of this geologically diverse country. Please note that this book is out of print.
About the Author
Geologist Steve Reidel has studied Northwest geology for more than 30 years. His interest in "big, black, boring rocks" began in the early 1970s with a doctoral fellowship to study basalt. He holds a bachelor's and master's degree in geology from the University of Cincinnati and a doctorate from Washington State University. He is a geologist with Pacific Northwest National Laboratory in Richland, Washington.
Big Black Boring Rock: $25.95
Product Details
* Paperback: 142 pages
* Publisher: Battelle Press (June 30, 2006)
* Language: English
* ISBN-10: 1574771566
* ISBN-13: 978-1574771565
* Product Dimensions: 8.8 x 5.5 x 0.5 inches
* Shipping Weight: 8.8 ounces