Treasures in the Sea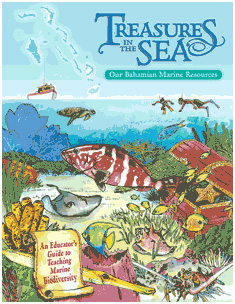 Treasures in the Sea is a resource book that provides teachers with scientific information and engaging, hands-on activities that encourage students to discover, cherish, and protect the sea and all of its treasures.
Designed especially for educators in The Bahamas, the book complements curriculum guidelines for grades three to six, though many of the activities may be adapted for younger or older students in formal and informal settings. Treasures in the Sea introduces marine conservation concepts by focusing on some of The Bahamas' most important marine species, and helps students understand life cycles, critical habitats, cultural and economic connections, and also the urgency of conservation and management.
Download the publication, link to resources related to the activities, and find out about training workshops, at http://treasures.amnh.org/